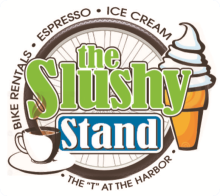 Slow your day's pace - relax in the shade on one of our porch rockers and watch the world go by.
We are located where Route 12 turns sharply to the right at the harbor, we are located on the corner to the right. Plenty of parking!!! 
The Slushy Stand, corporately known as Paradise Found Inc., has existed on the island of Ocracoke since 1974. Originally The Stand was a plywood shack where the start of the day was a matter of lifting the hinged front plywood panel. My first year in The Slushy Stand business was the last year of the shack. Today, we operate out of an air-conditioned building surrounded by a wrap-around porch.  After a little exercise on one of our rental bikes, feel free to indulge in a sweet treat and enjoy our front porch.
The Slushy Stand Photos