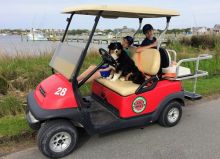 Ocracoke Island offers golf carts, bicycle rentals and even a tram, so there are lots of ways to get around the island. Feet also work since the village area is easily walkable, and Lifeguard Beach is only 2 miles from the village. For those who like a motor and a top, try a golf cart rental. The speed limit village-wide is 20 mph, so you can explore at the perfect pace, checking out all the shops, historic sites, and restaurants along the way. You'll discover that many of the streets are shared with local cats, dogs, pedestrians, bicyclists and the occasional skateboarder.
It's easy to make a reservation for a golf cart or a bicycle rental. After you grab a coffee and get acquainted, drive down to the National Park Service parking lot at the South End of the island at Silver Lake Harbor, and make arrangements to be picked up to start your adventure. See a complete list of all the rentals available under Things to Do for fun both on and off the water! And make sure to note that golf carts may not be driven anywhere but within the village. The northern border is Howard's Pub.
The Ocracoke Village Tram
The Ocracoke Village Tram is a free ride service in the village. It makes a continuous 30-minute loop from the Silver Lake Ferry Terminal along Irvin Garrish Highway to Ride to Wind Surf Shop and along Back Road. Riders are welcome to hop and off the tram from 10 a.m. to 8 p.m. It is especially helpful for those who come in on the Ocracoke Express Passenger Ferry, which runs mid-May through mid-September. Look for the Tram Stop signs, and call (252) 996-6200 for more information.
Ocracoke Off-road Adventures ... for Whom the Road is Merely a Suggestion
Ocracoke
Island Off-Road Vehicle Use Permits
Obtaining an ORV permit is an easy process that takes only minutes from start to finish. Go in person to the Ocracoke NPS Visitor Center located at the Silver Lake ferry docks, or you can visit the Cape Hatteras ORV Permit page at Recreation.gov.
The online permit process is as simple as:
Going to the Cape Hatteras ORV Permit page on Recreation.gov
Filling out the online application
Printing the permit and proof-of-permit and placing them in your vehicle. (Annual proof-of-permit stickers will be mailed; the printed proof-of-permit is good for 30 days.)

Remember to keep the permit in the glove box of your permitted vehicle and the proof-of-permit sticker clearly visible on your windshield.