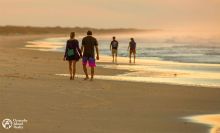 Ocracoke's beaches are protected, pristine and a pure joy to behold.
Imagine standing on a beach that for miles in either direction is nothing but sand, surf, and dunes. No hotels. No condos. Just the freedom to do as you please. Ocracoke is famous for the natural beauty of its sand, sun and surf. With 16 miles of pristine, undeveloped, wild beaches, the island always has the perfect spot just for you.
#1 Beach in the Nation!
Ocracoke's undeveloped beaches are so beautiful and clean that they are frequently recognized by Dr. Beach (actually Dr. Stephen Leatherman of Florida International University's Laboratory for Coastal Research) as among the best in the nation. In fact, in 2022 Dr. Beach ranked Ocracoke Island's Lifeguard Beach as #1 on his 10 Best Beaches in the USA list. Ocracoke ranked higher than beaches in Florida, California and even Hawaii. Dr. Beach reviews and evaluates beaches in categories such as beach width, sand softness, water temperature, cleanliness, access, amenities, presence of lifeguards and many more factors, so it's quite the honor for Ocracoke to take home the top prize.
From the north end to South Point, the Ocracoke beach offers plenty of wide-open spaces for all to enjoy. Surf fishermen, kite-flyers, kiteboarders, sunbathers, shell-seekers, surfers, boogie-boarders, sandcastle-builders, nature lovers — and everyone else — will find that Ocracoke's beaches are among the best in the world. All of the ocean beach is owned by the National Park Service as part of Cape Hatteras National Seashore. Parts of the beach are open to Off-Road Vehicles; please check the NPS map to find out which ramps are open to driving. Seasonal closures for bird and turtle nesting may be in place.
More Than 400 Bird Species and Other Wildlife
We hope you don't mind sharing. The ocean beaches as well as the wetlands, marshes and marine estuaries on the soundside make the island a happy and healthy home for birds, fish, turtles, shellfish and other wildlife. More than 400 species of birds have been spotted on Ocracoke. Start your list and see how many you can find. A glimpse of the island's wildlife usually begins with your trip over on the ferry. The gulls follow close behind the boat hoping for a handout, and, if you're lucky, bottle-nosed dolphins will put on a show for you.
Easy Beach Access
Much of the sound side of Ocracoke is undeveloped NPS property. Parts of the ocean beach and soundside are open to Off-Road Vehicles with permits.
There are also parking areas with beach access pathways. On the soundside are parking areas for the wild pony pastures and a nature trail. A large, free parking area is located at the southern end of Highway 12 in the village adjacent to the National Park Service Visitor Center, which has public restrooms and the ORV permit office.
Here's how you can get your beach-driving permit online:
• Go to the Cape Hatteras ORV Permit page on Recreation.gov.
• Fill out the online application.
• Print the permit and proof-of-permit and place them in your vehicle. (Annual proof-of-permit stickers will be mailed, but the printed proof-of-permit is good for 30 days.)
If you don't have internet access, you can get the permit by calling (877) 444-6777.
For more information, go to nps.gov/caha/planyourvisit