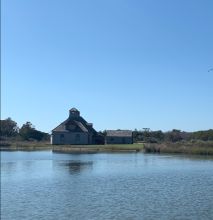 Portsmouth Island is a Step Back in Time
Every time we leave Ocracoke, we leave on a boat, but the boat ride to Portsmouth is a special adventure that seems to carry us across both water and time. The romance of leaving behind the trappings of modern life and journeying to a simpler time beckons visitors year after year.
Portsmouth Village was established in 1753. Within 20 years, it was one of the largest villages on the Outer Banks and a major seafaring port for the colony of North Carolina. More than 200 years later,  in the 1970s, the last residents left Portsmouth Island for good, and it became part of the Cape Lookout National Seashore.
Portsmouth, which is visible from Ocracoke's southern end, is the northern-most part of Cape Lookout National Seashore. The 56-mile island chain stretches from Ocracoke Inlet, down the North Carolina coast, and ends across the Back Sound from Beaufort. Unlike Cape Hatteras National Seashore, Cape Lookout National Seashore has no permanent residents and no paved roads. Sand dunes, open beaches and marshlands make up the islands.
On the northern tip of Portsmouth, the once-thriving village buildings remain, preserved by volunteers, leaseholders and the National Park Service. Nestled in the sand and salt marsh, near where Ocracoke Inlet meets the Pamlico Sound, Portsmouth Village offers visitors a chance to experience true seclusion as well as a fascinating and unique history. Explore the village on foot and get a glimpse into the past in its old homes, post office, Life-Saving Station, one-room schoolhouse and Methodist Church.
Portsmouth Island is a Beachcomber's and Fishing Paradise
On the other side of the island, where the Atlantic meets the sand, visitors experience a whole new sense of remoteness – there's nothing there but beach and wilderness. Low-lying sand dunes and tall grasses line the ocean beach and scattered all around are dozens of perfect, untouched seashells. It's a great place to find the elusive Scotch bonnet, North Carolina's state shell. These shells are what attract many people to Portsmouth Island and the rest of Cape Lookout National Seashore. The remote beaches of Portsmouth Island are also a paradise for surf fishing.
Private charters take daily trips from Ocracoke to Portsmouth and can drop (and pick up) visitors at the beach or village. Or you can take your own boat or rent one. For more about taking a boat to Portsmouth Island, click here. For more about Portsmouth Island, visit the Friends Of Portsmouth Island site and Cape Lookout National Seashore website.