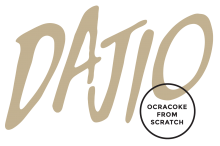 Dajio Restaurant in Ocracoke, NC
This is Ocracoke – from scratch!
Specializing in fresh, local seafood, Dajio is the perfect choice for those looking for traditional, Southern-coastal dishes that are creative, original and exciting. They offer a casual lunch selection with salads, wraps, sandwiches and burgers and an elevated dinner menu featuring nightly specials and homemade desserts. The menu changes with the seasons to bring guests the finest ingredients from the sea and their backyard garden at the peak of freshness. A kids' menu is always available. Just off the harbor in the heart of Ocracoke Village and housed in a nicely restored building, Dajio offers elegant indoor dining as well as a casual outdoor atmosphere with a multi-level patio and full outside bar with frequent live music. You will find craft beers, a wide wine selection and inventive cocktails. Pets are always welcome on the patio, especially during Shrimp Hour from 3 to 5 p.m. daily. Online orders are available. Look for the full menu and live music calendar online.