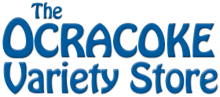 The Grocery Store on Ocracoke Island
Whether you're visiting Ocracoke Island for a day or a week, you're going to need something from The Variety Store. This is the busiest store on the island, with people coming in and out all day long for groceries, snacks, drinks, ice, beach goods, hardware and so much more.
As the only grocery store on Ocracoke Island, this is the place to pick up fresh-cut meats, fresh produce, frozen foods, gourmet cheeses, dairy products, bread, spices, sauces, vegan and gluten-free products – basically everything you need to prepare your own meals and snacks. The Variety Store offers grab-and-go sandwiches and prepared foods that make the perfect beach and ferry food, plus coolers to pack your picnic in. They have a great selection of wine and craft beer as well.
The Variety Store has everything you need for the beach, from chairs and umbrellas to sunscreen and sunglasses, plus anything else you could need on your visit, such as over-the-counter medicines, toiletries, cleaning supplies, tobacco and more. The Variety Store's well-stocked hardware store next door offers tools, hardware and electrical, plumbing, paint, garden and automotive supplies, including car batteries.
Get ready to love The Variety Store and their friendly staff; you're going to be here a lot!