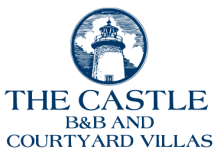 Outer Banks Bed & Breakfast in Ocracoke NC
Offered by Ocracoke Island Realty, The Castle Bed and Breakfast in Ocracoke, NC, looks like a magical sandcastle sitting on the Ocracoke harbor. This bed and breakfast occupies a renovated 3-story historic structure built by Ocracoke legend Sam Jones and local craftsmen. The Castle has 11 rooms, each with a private bath. A full homemade buffet breakfast is served each morning from 8:30 - 9:30a.m.
Also on the property are 18 Courtyard Villas providing accommodations for longer stays. Guests of the 1, 2 and 3 bedroom upscale condominiums, will enjoy a screened porch or deck, washer and dryer and a whirlpool tub. 
All Castle Bed & Breakfast and Courtyard Villas property guests have access to the on-site spa, heated pool, marina, sauna, conference room, wireless internet and bicycles. Villas are available year-round; the Castle B&B closes for the month of January.